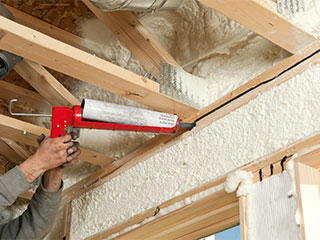 What Does This Service Entail?
Just as the name implies, an attic air sealing involves finding any and all cracks, holes, and otherwise in your home's attic that are allowing air to escape. This is done by testing to find them, then using special expanding foam to completely fill them up. This works with your insulation to create an airtight seal, thus saving you on energy and keeping the temperature more consistent. These leaks can come from a variety of issues, from pests that have burrowed in, to wear and tear over time. Whatever the case, getting them tended to will help your home and your wallet in the long run!
Why Should You Care?
While your home may have many other troubles and projects that might seem more pertinent than some cracks leaking a bit of air, it really adds up over time. Not only can it cause temperature fluctuations throughout rooms in your house that will stay warm in the summer or cool in the winter, but it causes a steady rise in your energy bill as well. Any amount of air getting out rather than circulating ensures that your air conditioning and heater will run for longer in order to make up for it, hence more energy being used. If you want to cut back on energy spending, as well as keep your house more comfortable overall, this is a great step!
We'll Take Care Of It All!
Our trained technicians use only the finest tools and materials available, which means that the job will be done right the first time and will last. We'll be out quickly and have it all done as quickly as possible so you can move on with your day, while never at the expense of it being done well. You can rest assured that every possible leak will be sealed up tight, and you'll be saving on energy in no time.
Call Us Today!
Contact Attic Cleaning Irvine now and get your home on the path to being more energy efficient before you know it!